Workshop on Android Application Development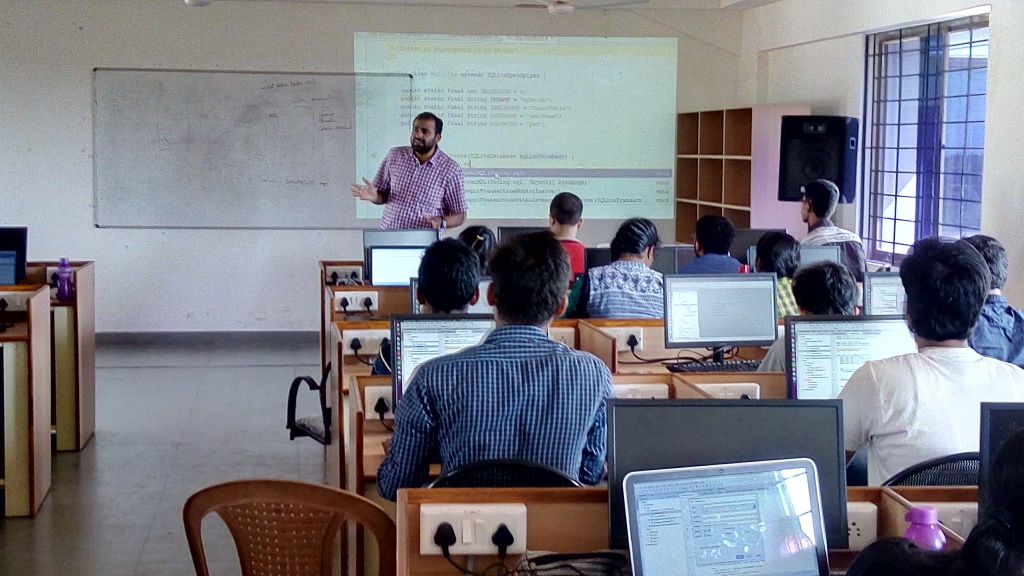 The department of Computer Science and Engineering, Shri Madhwa Vadiraja Institute of Technology and Management (SMVITM), Bantakal, Udupi, organized   a three-day workshop on Android Application Development in association with Sangam One Connected Services Ltd. for the students of SMVITM on campus from 29 April 2017 to 1 May 2017.
Mr. Rakshith, Mr. Vignesh and Mr. Jijo from Sangam One Connected Services Ltd. were the resource persons for the workshop.
40 students from across branches and semesters attended the workshop, where they were trained in Android Application Development using Android Studio. The key topics covered in the workshop are Android User Interface development, SMS and calling programs, SQL Lite, Data handling, XML parsers and JSON. On the concluding day eight students groups were formed to work on different problem statements provided by the resource persons.
Mr. Shrivishnu and Mr. Haripriya Aithal of 4th semester, CSE were the student coordinators for the workshop. The overall program was coordinated and executed by Mr. Manoj T, Mr. Ramachandra B N and Mr. Deepak Rao, Assistant Professors, CSE Department.
128 total views, 1 views today