Training Program on Embedded System Design and ARM Microcontroller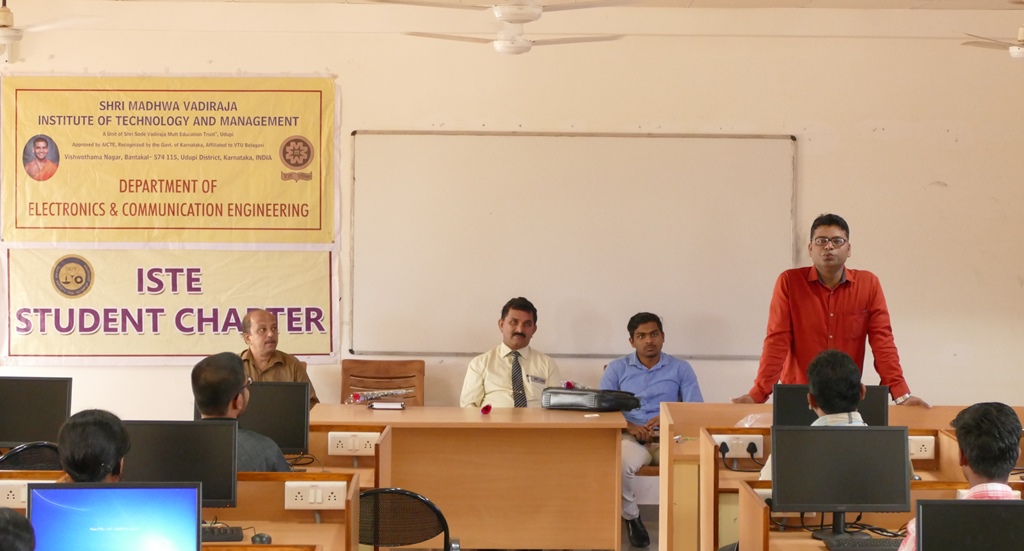 The department of Electronics & Communication Engineering, in association with ISTE Student Chapter organized a 15-day training program for the students on Embedded System Design and ARM Microcontroller, from 16 to 31 January 2018. Mr. Mayank Ranjan, Mr. Chand Basha, Mr. Varun and Mr. Prasanna from Cranes Software International, Bengaluru, were the resource persons. The students of third year ECE branch participated in the training program and enhanced their knowledge and skills.
Inaugurating the program, Mr. Mayank Ranjan said that technology is a weapon in the hands of engineers, and the students should acquire skills in using the technology to solve the engineering problems in order to build a successful career after graduation.  He said that mere classroom sessions as per the syllabus are not enough to become a successful electronics engineer, but the students should obtain the required hands-on skills in using the hardware and software by participating in such training programs.
Quoting a verse from the Upanishad, the Principal of SMVITM Prof. Dr. Thirumaleshwara Bhat said that learning is a lifelong process, until one's last breath. It should not stop after graduation, but it is the beginning of actual learning. He advised the students to come out of fear and shyness, and devote full potential in learning new technologies that are required to shine in the career.
Earlier, the convener Mr. Nagaraja Rao gave a prelude to the workshop and welcomed the resource persons. The Head of the department Dr. Balachandra Achar, the members of faculty and staff were present on the occasion.  On the concluding day, the Principal of SMVITM congratulated the students for participating in the training program, and thanked the resource persons for sparing their time to train the students.
45 total views, 1 views today