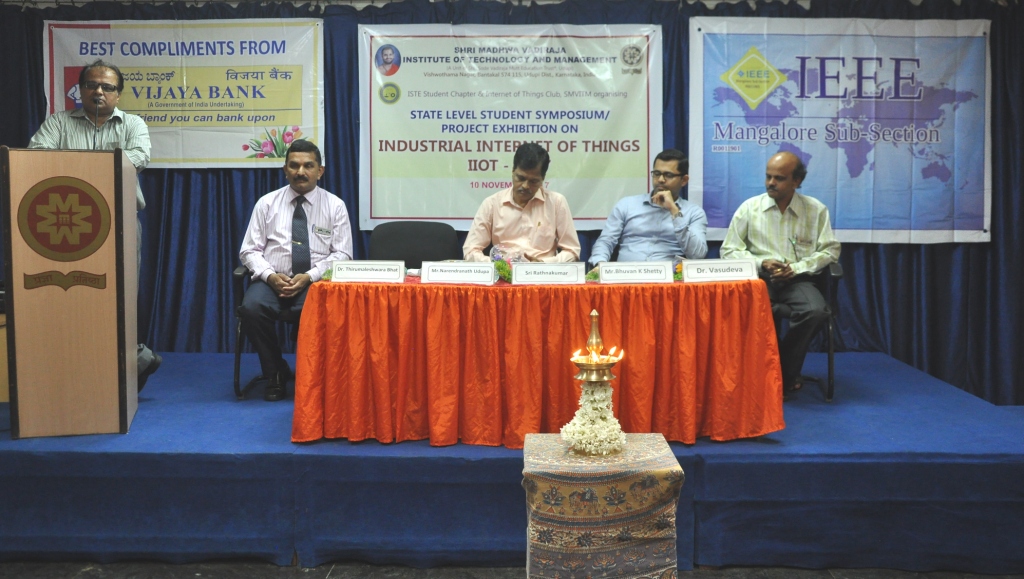 The Student Chapters of the Indian Society for Technical Education (ISTE) , Internet of Things (IoT) Club of SMVITM and IEEE Mangalore Sub Section organized a state level Student Symposium on Industrial Internet of Things (IIOT – 2K17) at the institute premises on 10 November 2017. Thirty teams from various Engineering colleges across the state exhibited their project models in the event.
The Symposium cum exhibition was inaugurated by the Chief Guest Dr. Narendranath Udupa, Head, Department of Lighting Research at Philips Lighting, Bangaluru and the Guest of honor Mr. Bhuvan K Shetty, Senior Manager, Enterprise Internet of Things (IoT),Bosch Engineering and Business Solutions, Bengaluru along with Shri Rathnakumar, Secretary, Shri Sode Vadiraja Mutt Education Trust (SSVMET) who presided over the function.
Dr. Narendranath Udupa spoke about the application of IoT and how advantageous it is to the growth of human kind. He also mentioned the fact that the engineers should ensure that applications of IoT reaches the common man. He emphasized that the technology trends which survive in the long run are much applicable and beneficial to the society.
Mr. Bhuvan K Shetty in his address said that providing a platform for business is a current trend and asked the students to explore the technology of IoT.
Shri. Rathnakumar in his presidential address mentioned the fact that manufacturing industries are transforming into a digital zone and urged the students to bring out creative idea through this forum.
Prof. Dr. Thirumaleshwara Bhat, Principal welcomed the gathering and Mr. Sachin Bhat, Assistant Professor, Department of ECE, proposed the vote of thanks. Ms. Sushmitha Baliga and Ms. Sushmitha R introduced the guests. Mr. Yashaswi Shenoy compeered the program and Ms. Sahana Udupa invoked the blessings of the God.
Dr. Narendranath Udupa, Mr. Bhuvan Shetty, Dr. Mohit Tahiliani (NITK Surathkal) and Dr. Rajeev Srivastava (IIT, Varanasi) gave technical lectures as part of the symposium.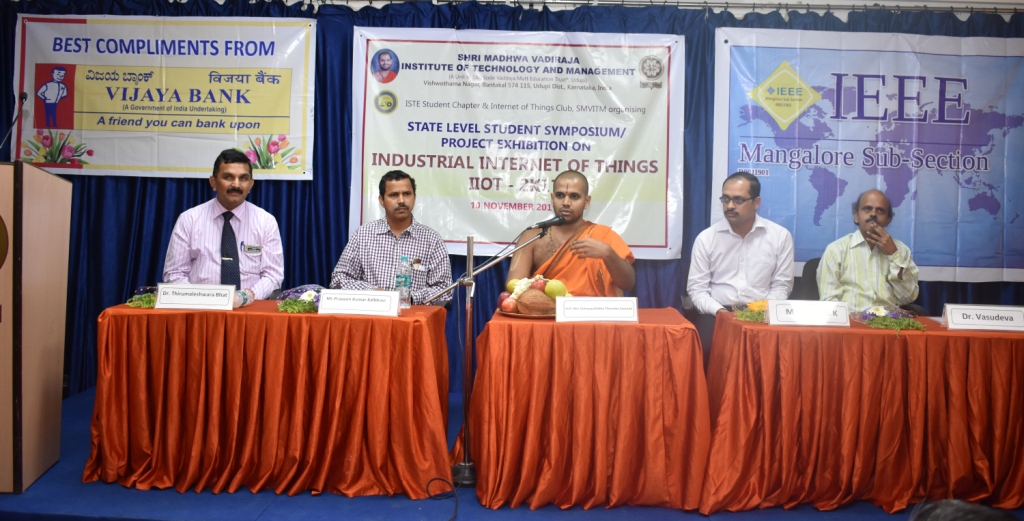 Valedictory function of the state level industrial internet of things project exhibition/ Symposium IIOT 2K17 was held on 10 November 2017.  H.H. Shri Vishwavallabha Theertha Swamiji presided over the function. Mr. Praveen Kumar Kalbhavi, MD & CEO, Novigo Solutions Pvt. Ltd., Mangaluru was the chief guest and Mr. Karthik K, Head, Technical Training Division, Robosoft Technologies, Udupi was the guest of honor.
Addressing the gathering Mr. Praveen Kumar Kalbhavi, told that it is not enough if students are good at concepts they learn in the class but it is more important to apply them for real time problems. In addition to the class room learning, it is also necessary to have additional skills to become successful engineer.
Mr. Karthik K appreciated the efforts of students in ideating, conceptualizing and implementing projects which are socially and technically relevant. He urged the students to continue the spirit of problem solving capability throughout their career.
In the presidential address Swamiji cautioned the use of technology in each and every field. Though it is inevitable, controlled use is very much essential. He opined that Technology not only changed the world but also changed certain beliefs and thoughts.
Project titled "Automated Stench Analyser" by Adithya K Shetty, Glanis Joyal Monteiro,  Marita Reema D'souza and Prajna U Nayak of SMVITM, Bantakal" won the first Prize and they were honored with a cash prize of Rs.10,000 and certificates. Second Prize of Rs. 7,500 was awarded to "WEAR-B" by Sanjitha V Shetty, Shubha Kotian and Sudheendra of SMVITM, Bantakal. Third prize with a Cash Prize of Rs. 5,000 was awarded to "SUAREZ- Life Saviour Jacket" by Namdev Nayak, Narendra Kini, Navya V Pai and Matharishwa Bhat of SMVITM, Bantakal. Three consolation prizes given to the projects titled "Petrol Adulteration detection", "Smart Transportation" and "Soil Fertility Identification".
Mr. Manoj T of Department of Computer Science and Engineering welcomed the gathering and Dr. Vasudeva of Computer Science and Engineering proposed the vote of Thanks. Mr. Sachin Bhat of Electronics and Communication Engineering read out the winners list. Ms.Vani Bhat compeered the program.
84 total views, 1 views today