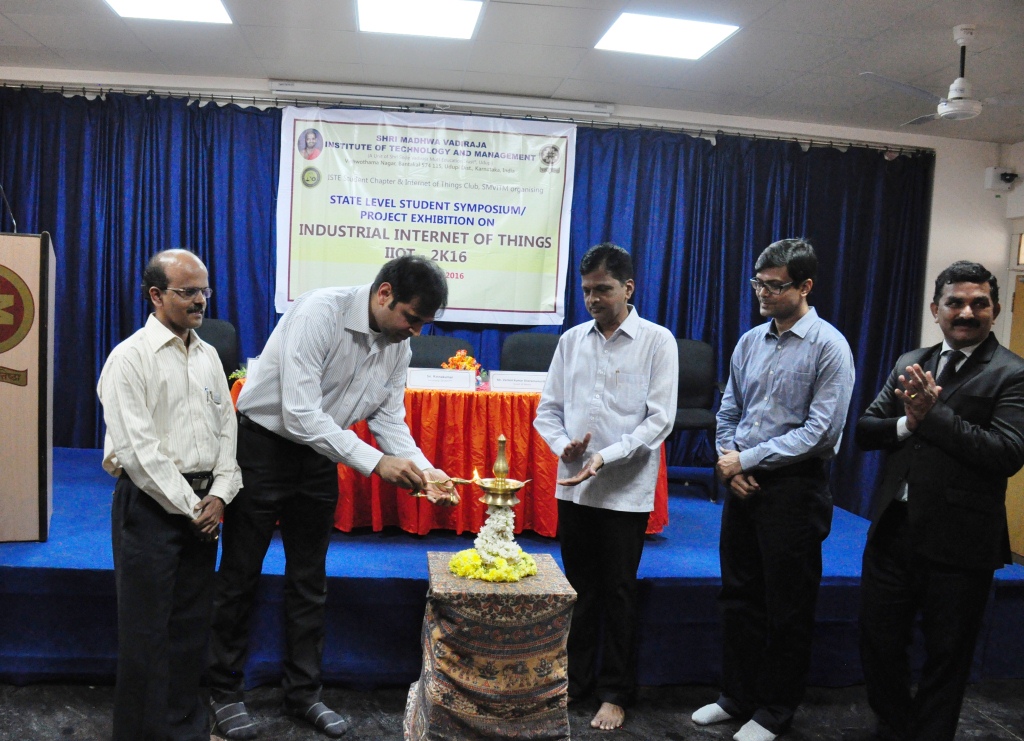 Shri Madhwa Vadiraja Institute of Technology & Management (SMVITM), Bantakal, under the aegis of the Student Chapters of the Indian Society for Technical Education (ISTE) and Internet of Things (IoT) Club, organized a state level Student Symposium on Industrial Internet of Things (IIOT – 2K16) at the institute premises on 04 November 2016. Thirty teams from various Engineering colleges across the state exhibited their project models in the event.
The Symposium cum exhibition was inaugurated by the Chief Guest Mr. Rajashekar V. Maiya, Associate Vice President & Head, Finacle, Infosys Ltd., Bengaluru and guest of honor Mr. Venkat Kumar Sivaramamurthy, Head Innovation Labs, Kotak Bank, Bengaluru along with Sri Rathnakumar, secretary, Shri Sode Vadiraja Mutt Education Trust (SSVMET) who presided over the function.
Mr. Rajashekar V. Maiya who was the chief guest spoke about the revolution brought by the IoT in various industries and how our ideas can be materialized as a commercial product.
Dr. Vasudeva, Head, Department of CSE welcomed the gathering Mr. Manoj T., Assistant Professor, Department of CSE, proposed the vote of thanks.
Delivering a key note address Mr. Venkat Kumar Sivaramamurthy spoke about the recent developments in the Internet of Things and the paradigm shift in various industries by adopting the IoT concepts.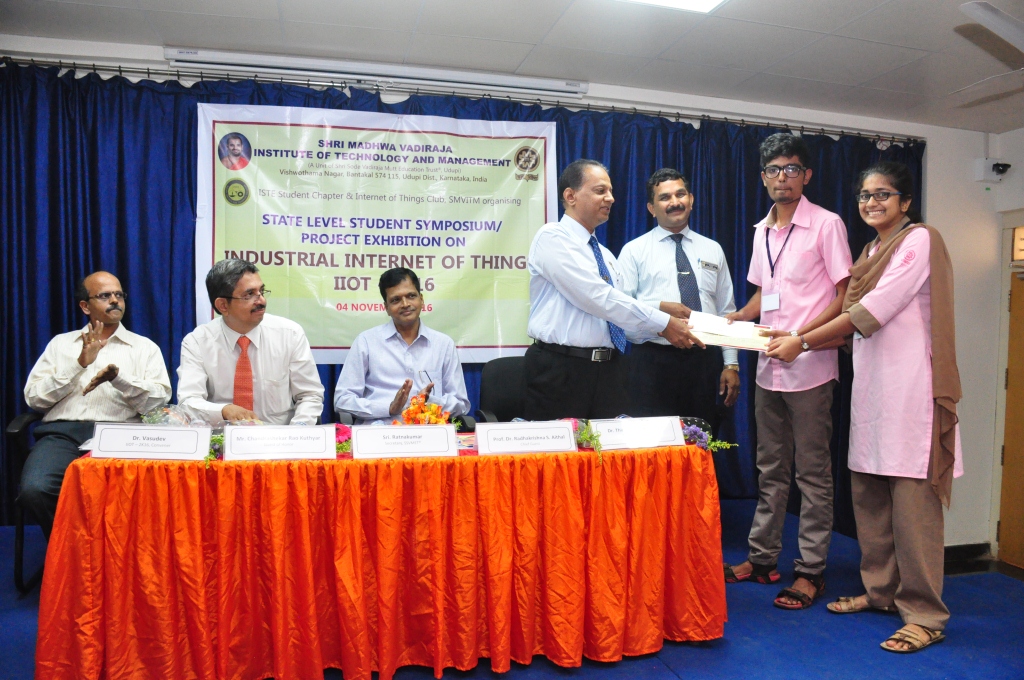 Valedictory program of the event was held in the same day evening.  Prof. Dr. Radhakrishna S. Aithal, Director, International Centre for Applied Sciences (ICAS), Manipal University, Manipal was the chief guest and Mr. Chandrashekar Rao Kuthyar, Lead Consultant, SangamOne Connected Services Ltd., Bengaluru was the guest of honor.
Addressing the students at the valedictory, Prof. Dr. Radhakrishna S. Aithal appreciated the  students' interest in the field of IoT and advised the students to bring out more implementable ideas in the coming years by utilizing the opportunities obtained.
Project titled "Process Automation Using Arduino and GSM" by "Kishore and team of SMVITM, Bantakal" won the first Prize and they were honored with a cash prize of Rs.10,000 and certificates. Second Prize of Rs. 7,500 was awarded to "AgriCopter" by Kuldeep Rao B. of SMVITM, Bantakal. Third and fourth prize with a Cash Prize of Rs. 5,000 and Rs. 2,500 was awarded to "Automation of Dry-wet waste collection to support Swach Bharath Abhiyan (IoT)" by Bharadwaj B. & team of Sri Sairam college of Engineering, Bengaluru and "Manual Paddy transplanter" by Punith Kumar Shetty & team of Srinivas Institute of Technology, Valachil respectively. The winners received the prize from the Chief Guest Prof. Dr. Radhakrishna S. Aithal.
Ms. Anusha B. Rao of Department of Civil Engineering welcomed the gathering and Mr. Sachin Bhat of Dept. of Electronics & Communication Engineering read a brief report of IIOT-2016. Ms. Akhila V Rao President, Student Council, SMVITM, Proposed the vote of thanks. Ms. Reshma Hebbar, Assistant Professor, Department of CSE compeered both the program.
99 total views, 2 views today