The promising Engineering Institution of the region, Shri Madhwa Vadiraja Institute of Technology and Management (SMVITM), Bantakal, Udupi has signed 3MoUs of varied academic interests, with reputed corporates to extend industry facilities to the students and faculty of the Institute. The function was organised at Shri Sode Vadiraja Mutt, Sonda, Uttara Kannada, on August 28, 2014 in the presence of H. H. Shri Vishwavallabha Theertha Swamiji, President of Shri Sode Vadiraja Mutt Education Trust (SSVMET), Udupi.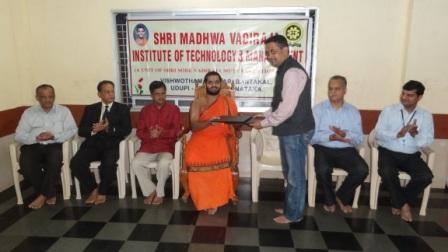 The renowned multi-national company, SAP Labs Pvt. Ltd., Bangalore with its headquarters at Germany, has recognized SMVITM as its academic partner. The SAP® University Alliances Academic Educational Material Utilization Contract for Teaching Purposes under University Alliances Program Associate Membership has been signed. This allows the students and faculty, free of charge access to SAP UA learning assets, as academic support. This, in turn, helps the students to build their career opportunities and develop technical competence.
CVC Pvt. Ltd. Bangalore, a premier VLSI & EDA Technology related company, has also come forward to be associated with SMVITM and has signed a partner agreement, to train & enhance the VLSI design-verification knowledge of the students and faculty of the Institute. This company will provide specialized VLSI training and laboratory assistance to the Electronics & Communication Engineering students. With this partnership, the institute shall have the right to non-productively use certain royalty-free software products and services to train and enhance the VLSI Design-Verification knowledge of its associates/employees/students, free of cost.
The Institute has also come up with 'Integrated Student Development Program' (ISDP)in their regular curriculum from the current year, which imparts additional training to all the students throughout their four years of studies, to prepare them as industry-ready human resources, to enhance their employability and to increase their job opportunities. An MoU for professional skills enhancement was also signed with renowned i-POINT Consulting Services Pvt. Ltd., Mangalore. This focused four year training will aim at honing Communication Skills & Behavioural Skills, correcting English language, understanding corporates better, fine tuning personal grooming, overcoming personal anxiety, improving aptitude abilities, confidently handling group discussions and facing campus interviews.
During the occasion, the Institute annual magazine "Akshara" was also released by H. H. Shri Vishwavallabha Theertha Swamiji. Mr. Sunder Madakshira, Mr. Archith Kalkunde and Mr.Gunjan Patel from SAP Labs India Pvt. Ltd.; Mr. Arvind Algundi from CVC Pvt. Ltd., Mr. Vaikunt Prabhu from i-POINT Consulting Services Pvt. Ltd., Sri Rathnakumar, Secretary of SSVMET; Sri RaghavendraTantry, Prof. Dr. Radhakrishna S. Aithal, Principal; Prof. Dr. A. Ganesha, Dean (Academics); Prof. Dr. B. Radheshyam, Prof. Dr. Balachandra Achar H. V., Mr. Nagaraja Rao, Mr. Venugopal Rao and Mr. Benny Mathews were present.
80 total views, 1 views today