Report on Science Model Competition & Exhibition "AVISHKAR" at SMVITM on 26 April 2014
The ISTE Student Chapter of Shri Madhwa Vadiraja Institute of Technology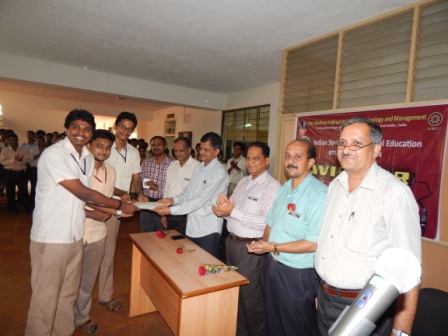 & Management, Bantakal, Udupi, Karnataka had organised a Science model competition & exhibition "AVISHKAR" for the students of the Institute on Saturday, 26th April 2014.
A total of 28 student teams with varied models in the field of Water and Energy management had participated in the competition. The objective of the programme was to nurture the new ideas and hidden talents amongst the students in an effort to include them in the mainstream.
Shri Ratnakumar, Secretary, SSVME Trust, Udupi and Prof. Dr. Somashekar Bhat, Professor, MIT, Manipal were the guests of honour on the occasion. Prof. Dr. Somashekar Bhat along with Prof. Dr. Ravindra H J and Prof. Dr. Balachandra Achar were the judges for the competition. The model "Gravity Wind mill" by Mr. Prabhakar and team bagged first place while the models "Traveller's charger" by Mr. Preetham and team and "Sewage treatment plant" by Mr. Laxman and team bagged second and third place respectively.
Prof. Dr. Radhakrishna S Aithal, Principal, Prof. Dr. A. Ganesha, Dean (Academics), HODs, members of both ISTE faculty & student chapters were present on the occasion.
126 total views, 1 views today