Rotary International Certificate of Organisation to SMVITM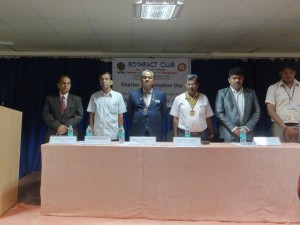 Udupi, Apr 24: The Rotary International Certificate of Organisation was handed over to Shri Madhwa Vadiraja Institute of Technology & Management (SMVITM), Bantakal by Rtn. Dr. B Devdas Rai, Governor of Rotary International District 3180, in a programmeheld recently in the Institute. Speaking on the occasion, the Governor advised the new Rotaractors to take pride in being involved in No.1 youth movement in the world and also explained the history of Rotary movement and its objectives.
Chief Guest Rtr. Shailendra Rao, Rotaract District Representative, RI Dist 3180, inducted the President, Secretary and Treasurer by presenting them with Rotaract pins. In his brief address he wished all new Rotaractors to do team work in order to make dream works true.
Principal of SMVITM, Prof. Dr. Radhakrishna S Aithal thanked the District Governor and Rotary Shankerpura for their efforts in setting up of Rotaract club in the Institute. He advised the students to channelize their efforts to make them to lead towards success requested to accept the challenge of making SMVITM Rotaract club as one of the best clubs in the district.
SMVITM Rotaract President Rtr. Rahul Kotian, in his acceptance address expressed his gratitude towards Institution, Principal and Faculty for entrusting upon him, the responsibility of being President of the club and also shared the plans of various social works to be carried out in the near future.
The programme commenced with a invocation from Rtr. Nihal Shetty followed by the Rotaract prayer from Rtr. Devika Lakshmeesha. Rotary Shankerpura President Rtn. Henry Castelino welcomed the guests while SMVITM Rotaract club Secretary Rtr.Adheesh Shetty presented a brief report on the various activities held. Rtr. Anita Pillai introduced DG. Rtn. Dr. B Devdas Rai and Rtr. Shailendra Rao was introduced by Rtr.Bhavya. Rtn. R. V. Prabhu indentified and appreciated the presence of members from various Rotary & Rotaract Clubs and Faculty of SMVITM. Rtn. Antony D'Sa, Secretary of Rotary Shankerpura delivered the vote of thanks. The Program was compered by Rtr.Nihal Shetty.
63 total views, 1 views today