Report on World Ozone Day Organized By ISTE and KSPCB
Protection of Ozone layer is the responsibility of Mankind – Dr. B. Manu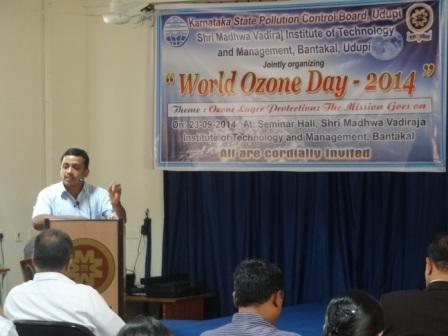 The ISTE Faculty & Student Chapters of Shri Madhwa Vadiraja Institute of Technology & Management (SMVITM), in association with Karnataka State Pollution Control Board (KSPCB), as part of World Ozone Day observance, organized a guest talk on 23 September 2014.
The guest speaker, Dr. Basavaraju Manu, Assistant Professor, NITK, Surathkal made a presentation on the importance of the ozone layer in the atmosphere and how it had been damaged over decades mainly due to human activities.  He also elucidated the precautions that could be taken to protect the ozone layer by countries, organizations and individuals. He emphasized the need to impart knowledge and spread awareness about the far reaching consequences of the depletion of ozone in the atmosphere and how, by being an ozone friendly consumer, every individual could contribute to the replenishment of ozone to protect planet earth from the ill-effects of global warming and related phenomena, caused mainly by the depletion of the thinning of the ozone layer over the poles.
Mr. Rajshekar Puranik, Environmental Officer of KSPCB, Regional Office, Udupi gave an overview of World Ozone Day. The guest talk was followed by an interactive quiz session on ozone, conducted by Prof. Dr. A Ganesha, Dean (Academics), SMVITM for the students of SMVITM and SVS PU College, Innanje. Ms. Amrusha introduced the guest speaker and a vote of thanks was proposed by Ms. Shanudha. Prof. Dr. Radhakrishna S. Aithal, Principal SMVITM; Heads of Departments, Mr. Siju V Soman, ISTE Coordinator; faculty members and students were present.
66 total views, 1 views today