Report on Outreach program at 'Asha Nilaya'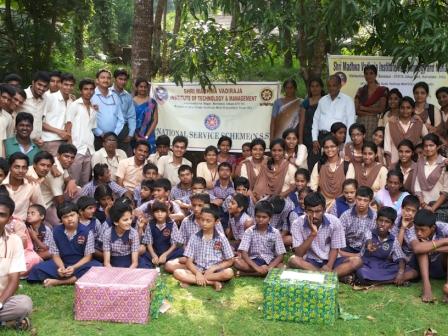 The active members of the National Service Scheme (NSS) unit and the Youth Red Cross (YRC) wing of Shri Madhwa Vadiraja Institute of Technology & Management (SMVITM), Bantakal, Udupi visited 'Asha Nilaya', a residential-cum-day school for special children at Udupi and organised a special interaction and social service program for the in-mates, on 27 September 2014 to mark the observance of National NSS Day.
 Prof. Dr. A. Ganesha, Dean (A) and Mr. Nagaraja Rao, the NSS Coordinator along with the members of NSS and YRC, handed over several useful books, clothes and toys donated by SMVITM students to Ms. Prasanni, chief warden of the school on the occasion. More than 50 NSS/YRC volunteers cleaned the school campus and weeded the gardens. Later, they engaged the special children in various activities and fun games and distributed attractive prizes.
 Ms. Prasanni expressed her deep sense of gratitude to the institution and the volunteers and appr
eciated the noble and thoughtful gesture of planning for and organising such a memorable event for the in-mates of the school.
79 total views, 1 views today