Report on Inauguration of Youth Red Cross Wing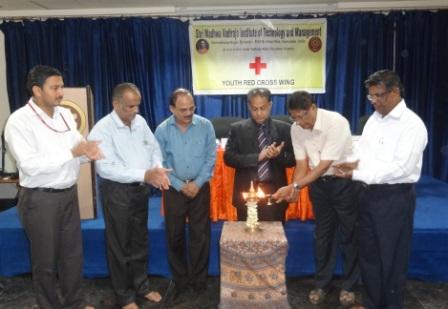 The Youth Red Cross Wing (YRCW) of SMVITM was formally inaugurated on 18 September 2014 at the institute premises. Mr. Shridhara Shenava, Chairman, YRCW, Indian Red Cross Society (IRCS) Udupi, was the chief guest on the occasion. In his inaugural address, Mr Shridhara congratulated the institute and the faculty members on the excellent results in the recently held university examinations and the various activities taken up by the student body of SMVITM under the banners of different organisations. He lauded the YRCW unit of SMVITM for its active participation in the rally organised on the eve of "Geneva Convention Day" on 12 August 2014 at Udupi.
The guest of honour, Mr.  George Samuel, Secretary, IRCS, Udupi gave a  brief history of Red Cross and its objectives and Mr. T. Chandrashekhar, Treasurer, IRCS, Udupi administered the    Youth Red Cross pledge.
Prof. Dr. Radhakrishna S. Aithal, presided over the function. In his message, he mentioned the activities taken up by the YRCW of SMVITM and assured the Red Cross unit of Udupi of all kinds of support to its activities.
Prof. Dr. A. Ganesha Dean (Academics) was present. Ms. Devika Lakshmeesha, President, YRCW welcomed the gathering and Mr. Ransan Joy Mathias delivered the vote of thanks.
98 total views, 1 views today