Shree Madhwa Vadiraja Institute of Technology & Management (SMVITM), Bantakal organized an orientation program for the newly admitted B. E. students at the institute premises on 3 August 2014. The major objective of the program was to make the parents and students aware of the academic aspects of the course, the rules and regulations of the institute and ensuring parental participation in monitoring the performance and progress of the students.
The program was inaugurated by the chief guest, Dr. Narasimha Bhat, MD&CEO, Manipal Dot net, Pvt. Ltd. In his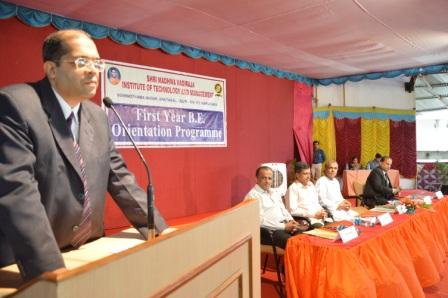 address to the newly inducted students, Dr. Bhat said that getting admitted to an engineering institute was only a ticket to reaching the destination of becoming a good engineer, which was a long and arduous process that required a lot of hard work and focus. He opined that the ancient wisdom of India had been able to conceive of the many technological wonders of today that were being attributed to the advancement of western science and technology. He further said that engineering students by the end of the first year of the course should be able to master the basic engineering skills, irrespective of their branches or specializations.
Giving an overview of the progress SMVITM had made over the short period since inception,   Dr. Radhakrishna S. Aithal, Principal, SMVITM highlighted the major achievements made by the institute at the academic and non-academic fronts, including a recent visit made by Dr. A. P. J. Abul Kalam, former President of India to the institute. He thanked the parents and students for the overwhelming response the institute received from them and assured them that the institute would do everything possible to live up to their expectations.  
Ms. Raviprabha the Student Welfare Officer briefed about the rules and regulations regarding student behavior and the student services offered at the institute. She requested the students and parents to understand and abide by the institutional rules and norms.
Dr. Lolita Priya Castelino, Head of the Department of Mathematics gave necessary information about the academic design of the first year B.E Course and the University and institute rules and regulations regarding academic matters.
Sri Ratnakumar, Secretary, Shri Sode Vadiraja Mutt Education Trust (SSVMET), Udupi expressed his gratitude to the parents and students for having faith and confidence in the institution and conveyed the management's commitment and determination to transform the institute into one of the best ten in the state within ten years' time.  
Toppers from the passed out batches and top CET rankers among the first year students were recognized and congratulated on the occasion.
The program was presided over by Sri P.  Shrinivasa Tantry, Vice President, SSVMET. Dr. A Ganesha, Dean (Academics) welcomed the gathering. A vote of thanks was proposed by Prof. Dr. Radheshyam, Head, Department of Civil Engineering and the program was compeered by Mr. Anand Hegde and Ms. Dhanyashree.
70 total views, 1 views today