Shri Madhwa Vadiraja Institute of Technology & Management, (SMVITM) Bantakal, under the aegis of the Faculty Chapter of Indian Society for Technical Education (ISTE), organized a two-day faculty development program for its faculty at the institute on 15 and 16 July 2014. Dr. P. V. Bhandary, eminent psychiatrist and Director of A. V. Baliga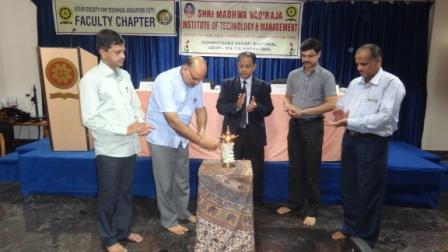 Hospital, Udupi inaugurated the program in the presence of Mr. Ratnakumar, Secretary, Shri Sode Vadiraja Mutt Education Trust, Udupi; Dr. Radhakrishna S. Aithal, Principal and Dr. Ganesha .A, Dean (Academics) of SMVITM.
The focus of the program on the first day was Teachers as Counselors. Speaking on Psychology of Adolescents and Academic Dysfunction: Reasons and Management, Dr. Bhandary elucidated the major behavioral characteristics of adolescence such as rebelliousness, experimentation, impulsiveness and an exaggerated sense of body image. He cautioned the teachers against judging adolescents hastily and jumping to conclusions about the causes of peculiar adolescent behaviours.
In a session titled Major Mental Disorders – Identification, Referral and Follow-up, Dr. Deepak Mallya, Consultant Psychiatrist, A. V. Baliga Hospital outlined the symptoms and characteristics of major mental disorders like depression, bipolar disorder, schizophrenia and epilepsy.
Dr. Vasudeva .S, Consultant Psychiatrist, Government District Hospital, Udupi in a session on Substance Abuse detailed how one develops tolerance of and dependence on abusive substances like tobacco, alcohol, narcotic drugs and depressants and the short and long term ill effects of addiction to them.
Speaking during the last session of the day on Minor Psychiatric Disorders Needing Identification and Referring, Dr. Virupaksha Devaramane, Consultant Psychiatrist, A. V. Baliga Hospital gave an overview of Anxiety Disorders, Adjustment Reactions, Hysterical Convention Disorders, Somatisation Disorders and Psychosomatic Disorders.
On the second day, the resource Person Dr. Lewlyn L. R. Rodrigues, Head of the Department of Humanities & Management, MIT, Manipal through his sessions on Micro Teaching and How to be an Effective Faculty, gave some insights into the need and ways of becoming efficient and effective teachers.
In the last session Prof. P. Suresh Bhat, Director, STEP, NIT-K, Surathkal gave an invited lecture on Faculty as an Institution Builder. Prof. Bhat opined that the faculty was the backbone of any educational institution and the intellectual resources had a vital role to play in the making of the brand image of an institution. According to him, a faculty member, other than doing his/her teaching work, should also take up some other roles that would directly or indirectly contribute to the growth and development of the institution.
74 total views, 3 views today