As a part of the Engineers' day celebrations, the NSS and Red Cross wings and Rotract Club of SMVITM in association with the District Government Hospital, Udupi, Adarsh Hospital, Udupi and JCI Kaup organised a free medical & blood donation camp for the staff and students as well as for the general public at the institute premises on 15 September 2013.
Dr. G. S. Chandrashekhara, MD, Director, Adarsha  Hospital, Udupi was the Chief Guest and Dr. Ananda Nayak, Chief Surgeon, District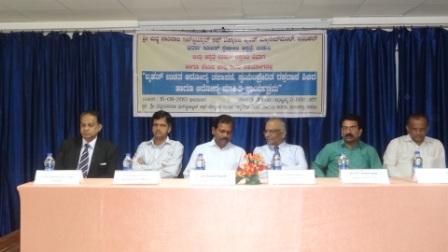 Government Hospital, Udupi and H.C. Shekarappa, Registrar, Evaluation, VTU were the Guests of Honour at the inauguration ceremony conducted at the institute in the morning.
Delivering a brief speech at the function, Dr. G.S. Chandrashekhara said that both communicable and non-communicable diseases are on the rise in India mainly due to lack of awareness among the uneducated and even educated sections of society.
Dr. Ananda Nayak said that when God created humankind, he divided them only into four categories according to their blood groups and requested the students and staff of SMVITM to donate blood and lauded the institute for taking up the initiative of organising a medical and blood donation camp.
 Mr. Ratnakummar, Secretary, SSVMET; Principal Prof. Dr. Radhakrishna S. Aithal and Dr. Ganesha A, Dean (Academics) were also present at the inauguration ceremony.
Later in the day Dr. Chandrashekhara gave a talk on general health problems and precautions that can be taken to prevent them and the available treatments for common ailments to the students of SMVITM.
A considerable number of students and members of the staff as well as the general public, donated blood at the camp.
The camp was well attended by the students, staff and members of the local community. A team of doctors that consisted of Dr.  G.S. Chandrashekhar, MD; Dr. Shaila Nayak and Dr. Kripalini of Adarsha Hospital, Udupi; Dr.  Anand Nayak, Surgeon, District Hospital, Udupi; Dr. Mohandas Shetty, Orthopaedist and Dr. Udayakumar, Medical Consultant examined people and gave medical advice at the camp.
62 total views, 1 views today