Report on Bus Shelter Inauguration
The newly constructed bus waiting shelter donated by Dr. N.S Shetty, in front of Shri Madhwa Vadiraja Institute of technology and Management, Bantakal was inaugurated by Father Leslie D'Souza, Correspondent, St. John's Educational Institutions, Shankerpura in the presence of Shri. Raghavendra Tantry and Shri Ratnakumar, Vice President and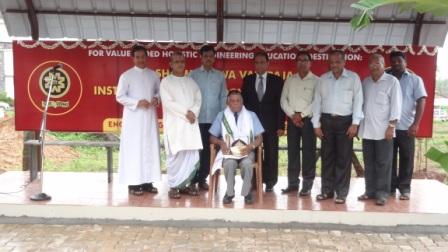 Secretary of Shri Sode Vadiraja Mutt Education Trust, Udupi respectively and members of the Rotary Club of Shankerpura on 18 September 2013.
On the occasion, Dr. N.S. Shetty, a surgeon, who has worked in the US over 14 years and who bore the entire expenses needed for the construction of the shelter, expressed his happiness over the fact that SSVMET has set up an institution of higher education in the locality and urged the students to make use of the opportunity offered by the institute.
Prof. Dr. Radhakrishna S. Aithal, Principal of SMVITM, during his vote of thanks, said that the Institute was grateful to Dr. Shetty for his kind gesture and it would take care of the needs of its students.
67 total views, 1 views today