The fourth Annual Day of Shri Madhwa Vadiraja Institute of Technology & Management (SMVITM), Bantakal, Udupi was celebrated on 05 March 2014. Inaugurating the event, Mr. Ramesh Pathak, Vice President (R&D), Schneider Electric India Pvt. Ltd, Bangalore, said that every individual should be aware of his or her personal, professional and social responsibilities and they should fulfill each of these responsibilities in the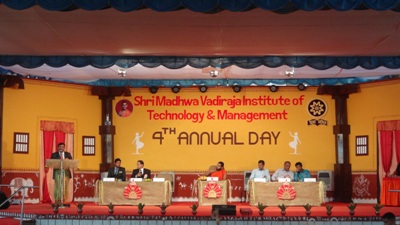 best possible way. He also said that whatever innovations made in the field of technology should be sustainable in the long run and every generation has an obligation to the succeeding generations as far as sustainability of the natural resources are concerned. According to him, the ability to communicate complex ideas in simplified ways was the key to be absorbed by the job market in the present day world of information explosion.
Shri Shri Vishwavallabha Theertha Swamiji of Sri Sode Vadiraja Mutt, Udupi, President of Shri Sode Vadiraja Mutt Education Trust, presiding over the function opined that, just as one needed to have a body and soul for an existence, both material knowledge and philosophical knowledge were essential for the harmonious development of individuals. He further said that the college was established with the objective of providing quality technical education, along with opportunities for developing aesthetic and creative talents and skills in physical activities like sports and games, to rural students.
Various scholarships, best outgoing student awards and academic proficiency prizes instituted by various philanthropists, individuals and organizations were awarded to the recipients on the occasion.
Principal of the institute, Prof. Dr. Radhakrishna S. Aithal presented the Annual Report for the year 2013 –'14. Shri Ratnakumar, Secretary Shri Sode Vadiraja Mutt Education Trust, Udupi welcomed the gathering. Prof. Dr. Ganesha A, Dean (Academics), Mr. Rahul Kotian and Mr. Pradyumna Acharya, the President and the Secretary of the SMVITM Student Council were also present.Prof. Raviprabha, Student Welfare Officer proposed the vote of thanks. Mr. Benny Mathews introduced the Chief Guest to the gathering. The programme commenced with a prayer from Ms. Usha H and was compeered by Ms. Anitha Pillai, Ms. Bhavya and Mr. Nikhil Acharya. The formal function was followed by various variety entertainment programmes by the students.
The media partner and the radio partner for the event are daijiworld.com and 92.7 BIG FM respectively.
90 total views, 2 views today