Report of Varnothsava 2013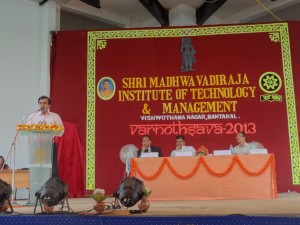 A one day colorful cultural talent extravaganza "Varnothsava" was inaugurated by Dr. Lakshman Nandagiri, Professor & Dean (Planning & Development), NITK-Surathkal, at Sri Madhwa Vadiraja Institute of Technology & Management, Bantakal, Udupi. Speaking on the occasion, Dr.Lakshman highlighted the importance of cultivating moral values and professional ethics for being successful in the career. He also inaugurated the new open air stage to the use of the students.
Presiding over the function, Mr. Rathna Kumar, Secretary of Shri Sode Vadiraja Mutt Education Trust, Udupi expressed his happiness over the entire progress of the Institution academically as well as facility wise in just three years of its inception and observed that the dream of His Holiness Shri Shri Vishwavallabha Theertha Swameeji, of developing this as a promising Technical Institute in the region is nearing reality. The Principal of the Institution, Prof.Dr. Radhakrishna S. Aithal congratulated the faculty & student coordinators for their organized effort and the participants enthusiastically taking part in various events. Mr. P. Raghavendra Thantry, Trustee of Shri Sode Vadiraja Mutt Education Trust, Udupi was present on the occasion.
Prof. Ravinarayana Rao read out the report on the extra curricular and cocurricular activities of the Institute. Prof. Renita Monis and Prof. Deepak Rao read out the report of the prize winners in various competitions held on the eve of Varnothsava.
The programme commenced with the invocation by Ms. Priya. Prof. Venugopal Rao welcomed the gathering. Prof. Subbulakshmi Karanth introduced the Chief Guest. Vice Principal, Prof. Kishore R Baglodi proposed vote of thanks. Mr.Calwin and Ms. Priyanka compered the programme. Various cultural competitions by the students followed the formal programme.
73 total views, 1 views today