An exhibition of engineering projects designed and developed by the first out-going batch of Shri Madhwa Vadiraja Institute Technology & Management (SMVITM), Bantakal, Udupi, along with the farewell program for the students, was organised at the institute on 22 May 2014.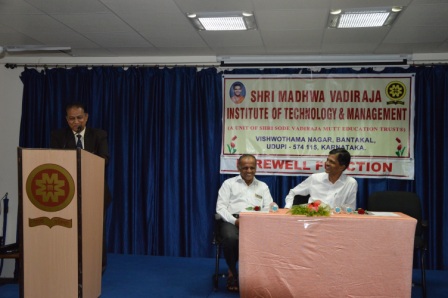 The exhibition was organised separately for the students of Civil Engineering, Computer science & Engineering, Electronics & Communication Engineering and Mechanical Engineering Departments at the institute. Mr. Rathnakumar, Secretary of the Sode Vadiraja Mutt Education Trust, Udupi, who was the chief guest at the farewell function, presented the best projects awards – two each in each of the departments – to the members of the student project teams.
Speaking on the occasion, Mr. Ratnakumar thanked the students for the faith and trust they reposed in the institute when they decided to join SMVITM, which was just a fledgling institution at that time. He welcomed the students who wanted to start their career as teachers at the institute and requested all the students to keep in touch with each other and the institute.
Prof. Dr. Radhakrishna S. Aithal, Principal, delivering his presidential address, reminded the students of the significant role the teachers and the institute played in shaping their careers and requested them to be the brand ambassadors of SMVITM, wherever they went and bring laurels to the institute just the way Satya Nadella and Rajiv Suri did for their alma mater.
A few students who recalled their days at SMVITM since their getting admitted to the institute, gratefully acknowledged the care and concern the institute had always showed in getting their problems solved right from the beginning. They also said about their plans of forming an alumni association and to be constantly in touch with their alma mater.
The Heads of the Departments shared their thoughts on the occasion and wished the out going students well in their future endeavors. Dr. Ganesha A, Dean (Academics) welcomed the gathering and Mr. Rajesh Nayak proposed a vote of thanks.
141 total views, 1 views today