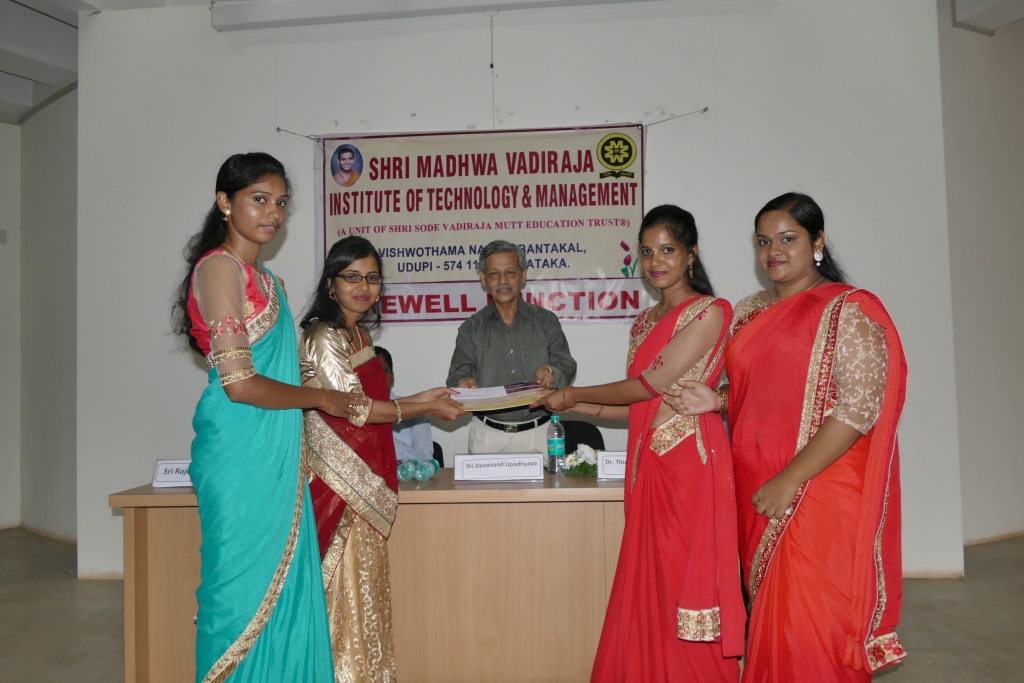 An exhibition of engineering projects designed and developed by the fourth out-going batch of Shri Madhwa Vadiraja Institute Technology & Management (SMVITM), Bantakal, Udupi, along with the farewell program for the students, was organised at the institute on 30 May 2017.
The exhibition was organised separately for the students of the Civil Engineering, Computer Science & Engineering, Electronics & Communication Engineering and Mechanical Engineering Departments at the institute. Shri Devananda Upadhyaya, Retired Senior General Manager, Syndicate Bank was the Chief Guest of the function, presented the best projects awards.         Mr. Rathnakumar, Secretary of the Sode Vadiraja Mutt Education Trust, Udupi, presided over the farewell function.
Speaking on the occasion, Chief Guest told that the students of SMVITM are blessed to be studied in the institution which is named after two great saints Shri Madhwa and Shri Vadiraja. Student should excel in their life such that SMVITM should become brand because of their behavior, attitude and performance. He urged the students not to wait for second chance and wished every alumnus of institute should be a unique achiever.
Prof. Dr. Thirumaleshwara Bhat, Principal, addressing the students, said that in addition to the achievements in cultural field, even in technical events SMVITM students are emerging out successfully, and the present batch has made SMVITM technically visible. He also added that every deserving, capable and eligible student will get opportunity in life and wished the students for their bright future.
In his presidential remarks, Mr. Rathnakumar said that the achievements of the students are the best advertisements for the institute, students' good words and works reflect the performance of the institute. He also said that students must come out of inferiority and excel in life.
A few students who recalled their days at SMVITM since their getting admitted to the institute, gratefully acknowledged the care and concern showed by the institute had always helped in getting their problems solved right from the beginning.
Mr. Rajesh Nayak announced the winners of project competition/exhibition. Dr. Vasudeva, Head of Computer Science & Engineering department welcomed the gathering and Ms. Akhila Rao, student council president proposed vote of thanks. The heads of various departments and faculty were also present.
98 total views, 1 views today