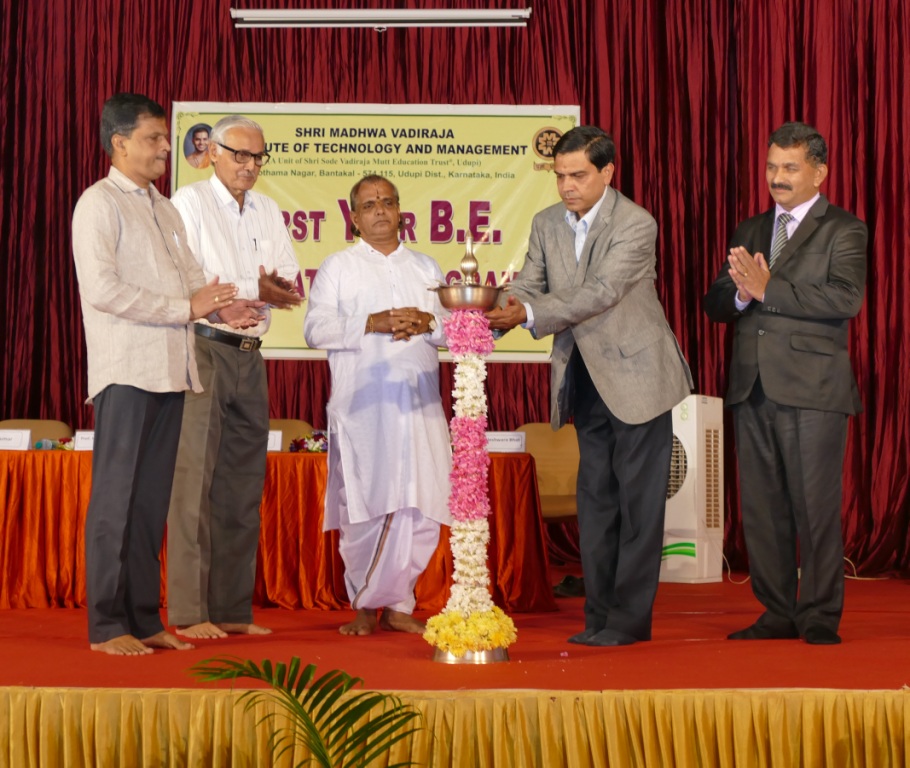 Shree Madhwa Vadiraja Institute of Technology & Management, Bantakal organized the orientation program for the newly admitted B.E students at the institute premises on 30 July 2017.
The major objective of the program was to make the parents and students aware of the academic aspects of the B. E. course, to make them aware of the rules and regulations of the Institute and ensuring parental participation in monitoring the performance of the students and contributing to the overall growth of a student.
The program was inaugurated with the lighting of the lamp by the Chief Guest, Mr. Arun Subramanian, VP, Globalization Services, SAP Labs, Bengaluru, The Guest of Honor Prof. H K Vishwanatha Rao, Former Associate Director, Manipal Institute of Technology, Manipal and other dignitaries on the Stage.
Prof. H K Vishwanatha Rao on this occasion suggested the parents the pros and cons of the current technology, its impact on the educational trends and how it can be used for the betterment of the society.
Mr. Arun Subramanian, while addressing the gathering talked about the potential which the youth holds. Also how a student should be a team worker in order to manage work and play for the overall development of oneself. In addition he gave the mantra "PRESS" which means play, read, eat, seek and sleep to utilize the time effectively.
Dr. Thirumaleshwar Bhat, Principal, SMVITM, highlighted the major achievements of the institute on both the academic and non-academic fronts, and also explained the role of the college in providing better placements to its students in the reputed companies . He also mentioned about the scholarship facilities provided in the college to the needy and eligible students and expected the students to utilize the facilities and excel in their career.
Dr. Lolita Priya Castelino, coordinator for the first year Students of the college gave necessary information about the academic format of the B.E Course. She explained the University and Institute rules and regulations to be followed by the students.
Dr. Reena Kumari P D, HOD of Chemistry briefed the students about the rules and regulations of the institute and requested the students and parents to abide by the institutional rules and norms.
Chief Guest honoured Top 3 CET toppers who have joined SMVITM this academic year.
In his Presidential address Shri. Rathnakumar, Secretary, Shri Sode Vadiraja Mutt Education Trust, expressed his gratitude to the parents and students for having faith and confidence in the institution, and assured that the college and the management is bound to give the best facilities.
Shri. P. Srinivas Tantry, Vice president of SSVMET, Udupi presided over the function.
Mr. Sudhir Bhat, Assistant Professor Department of Mechanical Engineering, welcomed the gathering.  A vote of thanks was proposed by Mr. Chetan R of Department of Electronics and Communication Engineering. The program started with invocation by Ms. Shreya Bhat and the Programme was compeered by Mr. Karthik V and Ms. Sowmya Bhat.
165 total views, 1 views today