One day Seminar on Design for Manufacture and Assembly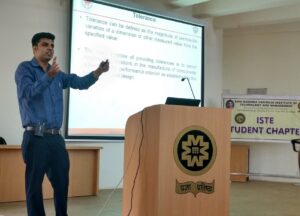 Shri Madhwa Vadiraja Institute of Technology and Management Bantakal has successfully organized one-day seminar on Design for Manufacture and Assembly for Engineering students of Udupi-Mangalore districts on 16th September 2017 in association with ISTE student chapter.
Seminar was organized by Mechanical Engineering Department and 131 students of various Engineering college students have taken advantage of it.
Mr Gaurav K G, final year mechanical engineering student welcomed the gathering. Dr. Sudarshan Rao, Professor and Head of the Department of Mechanical Engineering presented the introductory session on DFMA, Mr. Anand Hegde, research scholar, MIT Manipal, faculty members of the institute Mr. Adithya Kudva, Mr Sudhir and Mr. Kiran Bhat presented the session on various aspects of DFMA.
The Principal of the institute Prof. Dr. Thirumaleshwar Bhat congratulated the students who have participated in the workshop and making the event successful. The program was coordinated by Mr. Pavan Kumar and Mr Vijendra Bhat and event was organized by Mr. Narayan Nayak.
100 total views, 1 views today