Guest talk on 'Join Indian Army' Organized by Rotaract Club of SMVITM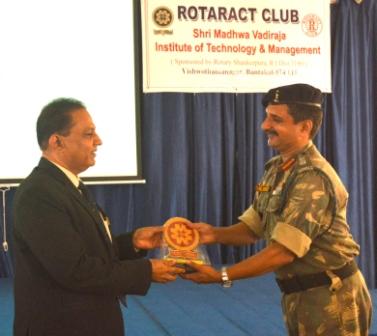 Serve the nation through NCC & Army:
Col. Sanjeev Shukla
The Rotaract Club of Shri Madhwa Vadiraja Institute of Technology & Management, (SMVITM), Bantakal, organised a guest talk ,  Join Indian Army by Colonel Sanjiv Shukla, Officer Commanding, 4 Kar Engr Coy  NCC, Manipal for the students of SMVITM, especially for those who aspire to be officers with the Indian armed forces at the institute  on 26 September 2014.
In his speech, Col. Shukla explained how the Indian army served the nation and how by joining the National Cadet Corps (NCC), students who aspired to join the army could train and prepare themselves for taking up jobs with the army. He also said that discipline was the cornerstone of a career in the army and NCC could be the launching pad for students to adopt a lifestyle of discipline and dedication. Making a presentation on the Importance of Engineers in Army, Col. Shukla delineated the career opportunities for engineering graduates in the Indian Army and urged the students who were dedicated and ready to make sacrifices for the country to join the army and serve the nation.
Dr.  Radhakrishna S.  Aithal, Dr. A.  Ganesha, Principal and Dean (Academics) SMVITM respectively, Rotaract Chairperson Rtn. Edward Mendonsa and Mr. Kishor Kumar Aroor, SMVITM Rotaract Club Coordinator were present.
Rtr. Devika Lakshmeesha delivered the welcome speech and Rtr. Akhilesh Introduced Col. Shukla. Rtr. Deviprasad Shetty delivered the vote of thanks. Rtr. Shishira Bhat compeered the program.
59 total views, 1 views today