Guest Lecture on Innovation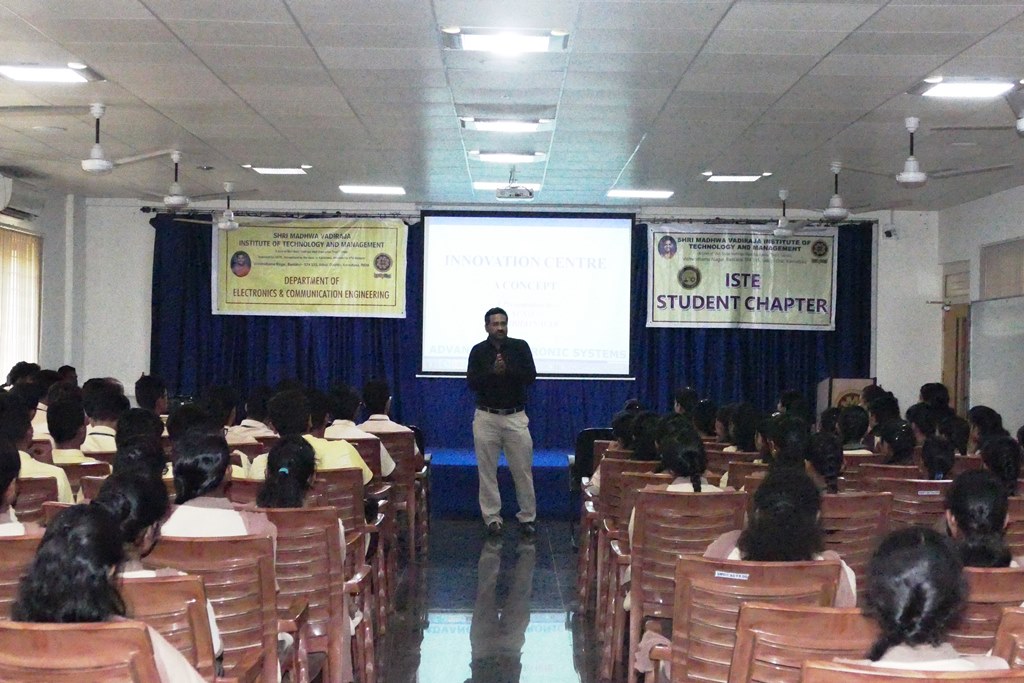 The department of Electronics & Communication Engineering, in association with ISTE Student Chapter, organized a Guest Lecture on the topic of Innovation, by Mr. Sunil Shambhatnavar, General Manager of Advanced Electronics Systems Bengaluru, on 14 Sep 2017. The second and third year students of ECE branch attended the lecture and interacted with the guest speaker.
Mr. Sunil, who is associated with SMVITM for the last six years, spent fruitful two hours with the budding electronics engineers and motivated them to conduct mini projects in every semester. In his interaction, he said that students should cultivate a habit of reading the datasheet for every component that they use in the laboratory. He further said that mere connecting the circuit and getting the output in the lab period does not solve any purpose; instead, students should have a clear understanding of the design and analysis of the circuit, before conducting the experiments. He advised the students to study from standard textbooks written by renowned authors, and also to read journals and magazines on electronics.
Earlier Ms. Vaishnavi Pai of 2nd year ECE introduced the speaker and welcomed him to the program. HOD of ECE department Dr. HVB Achar presented a memento and thanked the speaker. ISTE faculty coordinators Mr. Vinay Kumar and Ms. Kusuma Prabhu, along with student coordinator Mr. VK Radheya, arranged the program.
78 total views, 1 views today