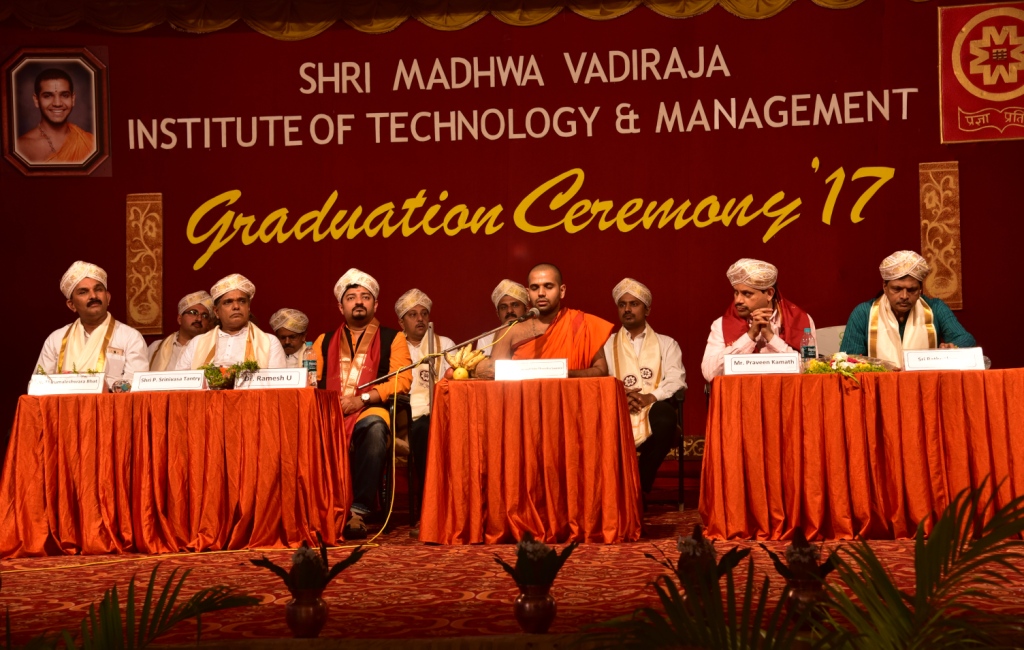 Fourth graduation ceremony organized at the institute premises on 12 November 2017.  Graduates who passed out during the academic year 2016 -17 received their graduation certificates from the Chief Guest, Mr. Praveen Kamath , GM & HR Head, Wipro Ltd. Bangalore, Guest of Honour, Dr. Ramesh U, Regional Officer & Director AICTE, Bengaluru.
The Chief Guest in his graduation address stressed that hard work is the only means to achieve success. Having right attitude is very important in exceling in once career and one need to be a continuous learner throughout his life. Finally he requested the students to spend time with family and contribute to the society in any small possible way.
Dr. Ramesh U speaking on the occasion highlighted the glory of ancient Indian education system and appealed the students to take up the social responsibility in a positive manner and contribute to the growth of the nation. He expected the students to be an ambassador of the college and help in development of the institution by constantly being in touch.
H. Vishwavallabha Theertha Swamiji, President, Shri Sode Vadiraja Mutt Education Trust (SSVMET), Udupi, who presided over the ceremony, presented gold medals to the branch toppers on the occasion. In his presidential address, he congratulated all the graduates and blessed them to be an optimist and focus on sustain the fame they achieved due to the good deeds they have done in life rather than focusing on piling wealth.
Prof. Dr. Thirumaleshwara Bhat, Principal, SMVITM administered the institutional oath to the graduates and in his address he applied all the graduates to be a continuous learner and develop the skills to apply the knowledge they gained over the years.
Dr. Ravindra H J, Head of the Department, Physics read out the list of gold medal winners from each department; Ms. Geetha from Department of Civil Engineering, Ms. Shwetha H from Computer Science and Engineering, Ms. Pratheeksha from department of Electronics and Communication engineering  and Mr. Sujith Kumar from Department of Mechanical engineering.
Mr. Shrinivasa Tantry, Vice president, SSVMET; Sri Raghavendra Tantry, SSVMET; Mr. Vadiraja Rao, Mr. Sham Sundar, Heads of the Departments, Adjunct Faculty members and members of SSVMET were present.
Mr. Karthik V , Assistant Professor, Department of of Mechanical Engineering introduced the Chief Guest. Ms. Anujna Rao, Assistant Professor, Department of of Computer Science & Engineering  introduced the Guest of Honour. Sri Rathnakumar, secretary, SSVMET welcomed the gathering; Ms. Sahana Udupa, rendered the invocation and Ms. Reena Kumari, Head Dept. of Chemistry, proposed a vote of thanks. Mr. Ananth Mallya, Deppartment of Mechanical and Ms. Shareen Noronha, Assistant Professors at Department of E&C were the masters of the ceremony for the event.
74 total views, 1 views today