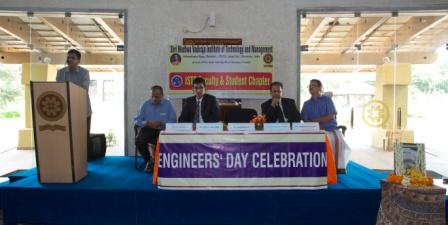 Engineers' Day celebrations, jointly organised by the Student Chapter of Indian Society of Technical Education (ISTE) and the student council of SMVITM was held at the institute premises on 15 September 2014.
 Mr. Vidur Shailendra Bhatnagar, Product Owner, SAP Labs India, Pvt. Ltd., Bangalore was the chief guest on the occasion. Making a presentation on Engineering Innovation in Sports, Mr. Bhatnagar explained how the soft wares developed by SAP Labs, as technological partner of KolKata Knight Riders, the Indian Premiere League (IPL) franchise helped the team to be the winners at IPL 2014.  He also said that great engineering needed great marketing to be in the race and noticed by the world.
 Delivering his Engineers' Day message, Principal, Prof. Dr. Radhakrishna S. Aithal exhorted the students to emulate Sir M. Visvesaraya to become world class engineers and to realise the theme of Engineers' Day 2014, Making Indian Engineering World Class.
 Prizes to students, who became the winners in a paper presentation competition organised by ISTE Student Chapter, as part of the celebrations, were given away on the occasion. The award instituted by the management for the best working engineer was also presented to Mr. Shrihar Moolya, Resident Engineer at SMVITM.
 A demonstration and presentation of a few student projects – Wall-E, A Telepresence Robot, Gravity-Wind Wheel and Solar- Powered Smart pedestal Lighting System – was also made at the program.
Prof. Dr. Balachandra Achar H. V., Head of the Department of Electronics & Communication Engineering read out an account of M. Visvesaraya's life and work on the occasion. Mr. Rathnakumar, Secretary, Udupi presided over the program. Mr. Raghavendra Tantry, representative of SSVMET was present. Prof. Dr. A. Ganesha, Dean (Academics) welcomed the gathering. Mr. Amruthesh, VII Semester E&CE introduced the chief guest and Ms. Snehal Rao, V Semester Civil Engineering proposed the vote of thanks. Mr. Harshith Joshi and Ms. Jovita D'Souza, III and V Semester Civil Engineering respectively compeered the program.
88 total views, 2 views today