Dr. A. Ganesha has taken charge as Dean(Academics) at SMVITM
Dr. A Ganesha has taken charge as Dean(Academics) at SMVITM on 17 -07 2013.
Brief Profile of Dr. A. Ganesha:
Dr. A. Ganesha, Civil engineer by qualification, teacher by profession having teaching  experience of over two decades both at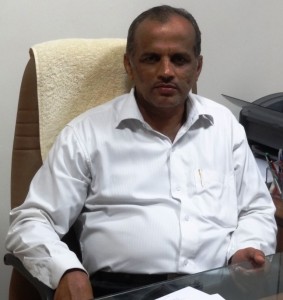 UG and PG level has joined SMVITM as Dean(Academics) on 17 July 2013. Dr. A. Ganesha has completed is B.E. Civil Engineering, M.E. in Environmental Engineering and Ph.D. in Civil Engineering. His area of research is Environmental Engineering. He has published more than 25 papers in Conferences / Journals on various topics of water and waste water Engineering.
While serving as faculty at MIT Manipal, he has taken many administrative responsibilities. He was the member of committee for preparation of common teaching material for the subject Environmental Studies for UG students when introduced by UGC, preparation of Environmental Engineering laboratory manual to conduct experiments for UG students, Preparation of syllabus for the new M.Tech. Course in Environmental Engineering. He has guided many UG and PG projects on design, checking efficiencies of the existing system  in the area of waste water disposal (municipal and industrial). He has also guided projects on treatment and disposal of sewage for IAESTE students coming from other countries. He was the Certified Internal Auditor for ISO 14001-2004 certification. He is a member of Udupi District Consent Committee of KSPCB.  He was the consultant for design and operation of effluent treatment facilities for the various industries in and around Manipal and Udupi.  Currently he is working on developing an economical rural model for proper treatment and disposal of sullage from residential buildings
Dr. A. Ganesha had given several invited talk on waste water management and rain water harvesting at different organizations locally and also presented technical papers on the above topics at different National and International conferences/seminars.
84 total views, 1 views today