CET-KEA Pre-Counseling and Career Guidance Program at Honnavar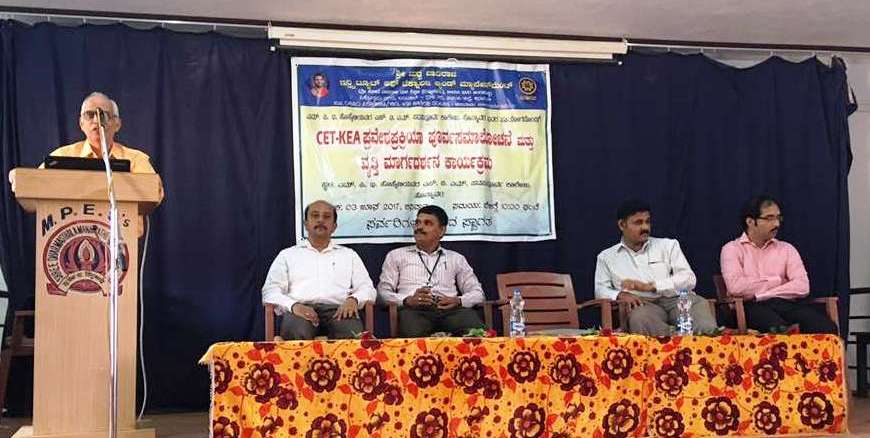 Shri Madhwa Vadiraja Institute of Technology & Management (SMVITM) Bantakal, in association with Malnad Progressive Education Society, Honnavar, conducted CET-KEA Pre-counseling and Career Guidance program at Shri Dharmasthala Manjunatheshwara Pre University College, Honnavar, on 03 June 2017, for the benefit of professional course aspirants, and the second year PUC students.
Inaugurating the program, Sri S M Bhat, Joint Secretary of the Society, advised the students to take the right decision at this stage, which will decide their future career. Sri M H Bhat, Principal of the P U College, encouraged the students to clear all their doubts about the CET process by interacting with the resource persons.
Mr. Deepak Rao, Assistant Professor with the department of Computer Science & Engineering, presented the various opportunities available to the students after their second PUC. Dr. Balachandra Achar, Professor & Head of the department of Electronics & Communication Engineering, presented the facilities available at SMVITM to the students for pursuing holistic engineering education. Dr. Sudarshan Rao, Professor & Head of the department of Mechanical Engineering, briefed about the different rounds in CET process, and the care to be taken while entering the college/course options. Mr. Sachin Bhat welcomed the gathering, and Mr. Venugopala Rao proposed the vote of thanks. The program was coordinated by Mr. Nagaraj Bhat, assisted by Mr. Narayan Nayak and Mr. Dinesh Kumar.
80 total views, 1 views today