Celebration of Kannada Rajyothsava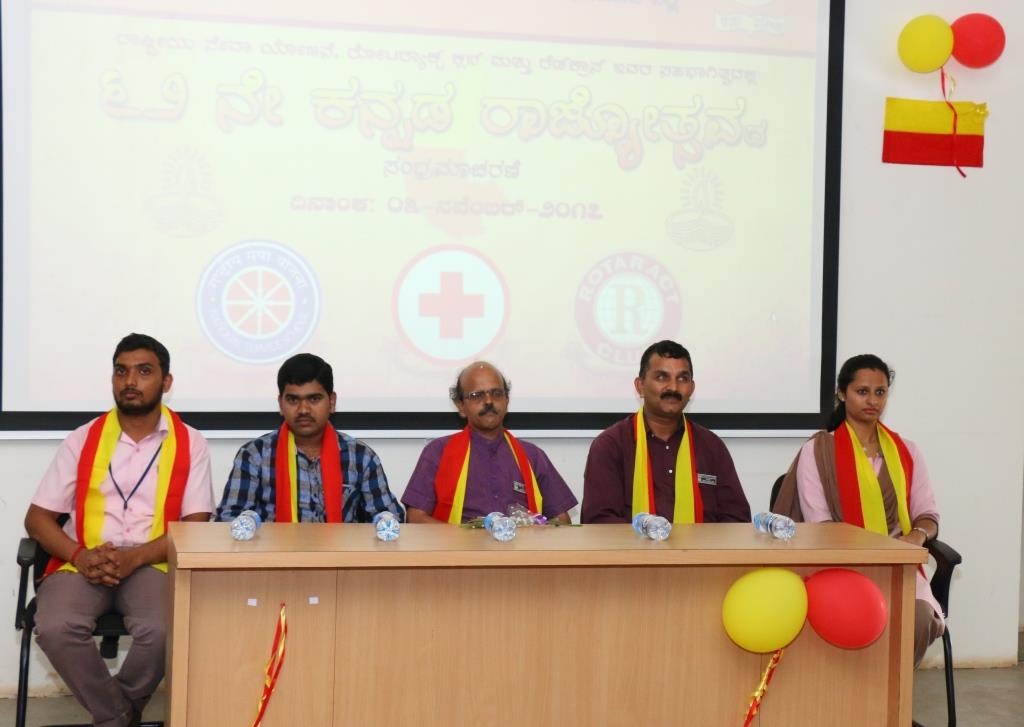 Kannada Rajyothsava was celebrated in the institute premises on 03 November, 2017 under the banners of National Service Scheme (NSS), Youth Red Cross (YRC) and Rotaract Club (RC) of Shri Madhwa Vadiraja Institute of Technology and Management (SMVITM), Bantakal.
Dr. Vasudeva, Head of the Department of Computer Science & Engineering of the institute was the chief guest on the occasion.  He spoke on a number of salient points regarding the Kannada language and its upkeep. He wondered that as people tend to use words from English and other languages when speaking in Kannada, it would not be wrong to use Kannada words when speaking in English or in other languages. He congratulated the participants of the Kannada essay and speech competitions. He later proudly declared that as long as there are young people with such fluency in the language, Kannada will live long.
The Principal of the institute, Prof. Dr. Thirumaleshwara Bhat presided over the function and delivered the presidential address.
Mr Kishor Kumar Aroor, Assistant Professor, Department of Mechanical Engineering, SMVITM, Bantakal and the Institutional NSS / YRC / RC Coordinator, spoke about the program particulars. All Departmental NSS/YRC/RC Coordinators, Heads and faculty members from various departments, Cultural coordinator Mr. Ananthesh Rao, Mr Sandesh Kumar D and Shriraksha Acharya, Presidents of NSS and RC respectively, vice presidents and all the office bearers of NSS/YRC and RC were present on the occasion.
The program commenced with a naada geete by Ms Sahana Udupa and Ms Shreya Bhat. Ms Ashmitha Kalkur presented a brief introduction of the chief guest. The Program was compered by Ms Tanusha Shetty. The vote of thanks was delivered by Mr Shrinath Patkar. The official stage program was followed by a slew of cultural programs presented by the faculty and students of the institute.
52 total views, 1 views today