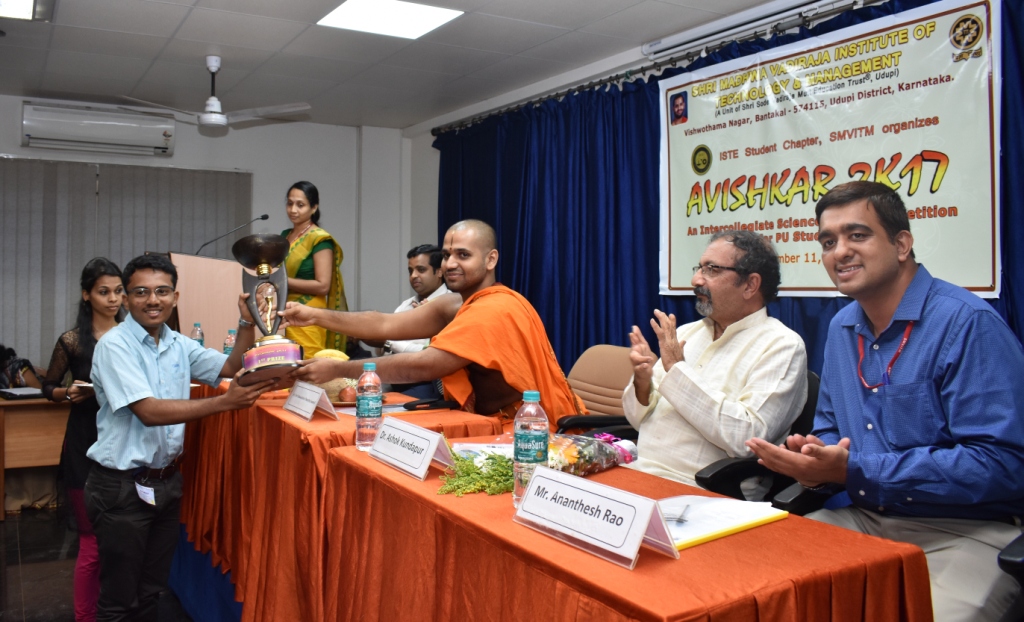 Student Chapter of the Indian Society for Technical Education (ISTE), organized Avishkar 2K17,  the fourth edition of annual intercollegiate science model exhibition-cum-competition for Pre University College students of the Udupi and Dakshina Kannada districts – at the institute premises on 11 November 2017. 36 teams comprising 108 students representing 20 PU colleges participated in this mega event.  The event was inaugurated by  Sri Rathnakumar, Secretary in the morning.
The Validictory function and prize distribution ceremony was held in the evening. H. H. Shri Vishwavallabha Theertha Swamiji, President, SSVMET presided over the function and gave away the prizes to the winners of the competition. Dr. Ashok Kundapur, Retired professor of Biology, Environment and Energy Activist, Manipal was the Chief Guest. Speaking on the occasion he highlighted the importance of conserving the environment and appreciates the beautiful and reliable things given by the nature.
Chandan, Renuka Kudva and Prajwal Kamath of Canara PU College, Mangaluru bagged the first prize and the cash award for their model "Dum Machine".  Aneesha, Dhanush and Rithik of Poorna Prajna PU College, Udupi were awarded the second prize and cash award for the model "Fire Extinguisher Using Sound Waves". Prajwal, Jeevith and Sathwik of PoornaPrajna PU College, Admar secured the third prize and cash award for their model "Auto Plant".
Dr. Ashok Kundapur and Mr. Anil Kumar Bhat along with Dr. K. K. Srinivasan and Dr. Ravindra were the jury members.
Dr. Thirumaleshwara Bhat, Principal, presented a brief report of the exhibition. Mr. Ananthesh Rao, Department of Mechanical Engineering Assistant Professor welcomed the gathering  and Mr. Venugopal Rao,  Department of CSE  gave the vote of thanks. Jyothi Kamath and Thanusha Shetty comeered the program.
76 total views, 1 views today