A two-day inter-collegiate cultural and technical fests Varnothsava and Tantrikothsava organized by Shri Madhwa Vadiraja Institute of Technology & Management(SMVITM), Bantakal, Udupi  was inaugurated at the college premises on 3 March 2014.
The Chief Guest at the inaugural, Mr. K.T. Rai, General Manager, Syndicate Bank, Manipal, congratulated the college management for organizing such a mega event, which involved participants from almost all colleges in the region at the very fourth year since its inception. He also highlighted the fact that, there are not many takers for banking jobs from the Coastal Karnataka region in spite of the enviable achievements the region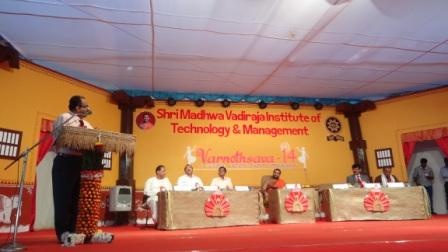 has made in terms of education and entrepreneurship, and encouraged more engineering graduates to join the banking sector.
The function was presided over by H H Shri. Vishwavallabha Theertha Swamiji, President of Shri Sode Vadiraja Mutt Education Trust, Udupi and Chairman of the SMVITM Governing Council. In his presidential remarks, Swamiji congratulated the students for bringing name and fame for the Institute and also the members of the Management, Principal, Teaching & Non-teaching Staff members and the students for the laudable efforts in organizing this two day mega events. He expressed hopes of achieving many more such laurels to the Institute in the future.
Principal of the institute, Prof. Dr. Radhakrishna S. Aithal welcomed the gathering. Dr. Lolita Priya Castelino, Head of the Department of Mathematics introduced the chief guest. Mr. Ratnakumar, Secretary of Shri Sode Vadiraja Mutt Education Trust delivered the message.  Prof. Harish B, advisor to SMVITM and Mr. Rajeshwar Singh, GC member were present on the occasion. Prof. Subbulakshmi Karanth proposed vote of thanks. Ms. Aditi Baglodi and Mr. Nihal Shetty, students of SMVITM, compeered the program.
Following the formal program, various events such as Indian & western Group dance, Solo dance, Mime, Instrumental music, Indian & Western Solo singing, Duet singing, Rangoli, Face painting and Event photography were held at different venues simultaneously. There were more than 150 registered participants for all the above events.
Veteran experts in their respective fields like Ms. Prathibha Samaga, Mr. Nataraj, Mr. Don Brandon, Ms. Uma Udayashankar and Mr. Gurudath Kamath had obliged our request for judging the above events as external referees.
405 total views, 1 views today