Tantrikothsava started with a spectacular demonstration of micro and mini Unmanned Aerial Vehicles (UAVs) by Prof. Prithviraj from the Department of Applied Mechanics, NIT-K, Surathkal, followed by a technical presentation on the benefits of UAV in disaster management and community resilience. Various models of the self fabricated UAVs including the quad raptor were successfully flown inside this campus and aerial photographs made.
A variety of general technical events like Quiz, Roborace, Treasure hunt, Gaming events like NFS-Most wanted, Counterstrike, Technical paper presentation and branch specific events like Quick Surveying & Model Making for Civil Engg., CAD & Foundry Modelling for Mechanical Engg., C/C++ Debugging & Programming for CS &Engg., and Circuit rig-up/Debugging & Engineers eye for E&C Engg. branches were organized at various venues in the Institute campus. More than 800 registrations for various events mentioned above.
Various subject experts like Dr. Nagesh H R from MITE, Moodbidri, Prof. Rounaq Ahmed BIT, Mangalore, Prof. Ajith Hebbar from AIET, Moodbidri and Prof. Sukesh Rao from NMAMIT, Nitte obliged our request for being external referees for various technical events.
Following are some of the neighboring institutes who had representation in the events during this first ever, state-level, inter-collegiate, Cultural Fest "Varnothsava" and Technical Fest "Tantrikothsava" in SMVITM campus.
Canara Engineering College, Mangalore
MIT, Manipal
NMAMIT, Nitte
Shri Devi Institute of Technology, Mangalore
Mangalore Institute of Technology & Engineering, Moodbidri
Srinivas School of Engineering, Mukka
KVG College of Engineering, Sullia
Moodlakatte Institute of Technology, Kundapur
St. Joseph's Engineering College, Mangalore
Anjuman Engineering College, Bhatkal
P.A. College of Engineering, Mangalore.
 The valedictory function of the two-day inter-collegiate cultural and technical fests Varnothsava and Tantrikothsava organized by Shri  Madhwa Vadiraja Institute of Technology & Management(SMVITM), Bantakal, Udupi  was held at the college premises on 4 March 2014.
Prof. Dr. S G Gopalakrishna, Principal of Nagarjuna Engineering College, Bangalore, highlighted the importance of being informative at all times and lauded the enviable efforts of the Institute Management for making the students culturally rich along with providing holistic technical education. One more guest of the day, Prof. Dr. Niranjan N Chiplunkar, Principal of NMA Institute of Technology, Nitte, appreciated the progressive growth of the Institute within a very short time and observed that it will grow as a promising technical institute in the days to come.
H.H. Shri Vishwavallabha Theertha Swamiji of Sri Sode Vadiraja Mutt, Udupi, the President of Shri Sode Vadiraja Mutt Education Trust presided over the function and handed over the overall championship trophy to Mangalore Institute of Technology & Engineering,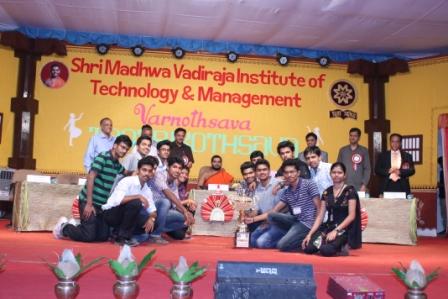 Moodbidri while, Shree Devi Institute of Technology, Mangalore, received the runners-up trophy. More than 1000 students representing 10 engineering colleges from all over Karnataka took active participation in the two day events.
 Mr. P Shreenivasa Thantry, Vice-President, Shri Sode Vadiraja Mutt Education Trust (SSVMET), Udupi, Secretary of SSVMET Mr. Ratnakumar, Principal Prof. Dr. Radhakrishna S. Aithal were present on the occasion. Prof. Dr. A Ganesha, Dean (Academics) welcomed the gathering. Prof. Dr. B Radheshyam, Head of Civil Engineering Department gave a brief summary of the two day events. Prof. Renita Sharon Monis and Prof. Shainy Salins read out the list of winners in various events organised during the two day fests. Ms. Vivina and Ms. Jovita introduced the guests to the gathering. Coordinator of the technical fest, Prof. Rajesh Nayak proposed the vote of thanks. The programme was compeered by Mr. Vignesh Bhat, Ms. Priyanka Bhat and Ms. Alisha Bandcy.
This program was followed by a thrilling Yakshagana performance, "Mahisha Vadhe" from the students of SMVITM, guided by Dr. Kolyur Ramachandra Rao, veteran Yakshagana artist.
205 total views, 1 views today