A report on Student Council Inauguration on 23 August 2014 at SMVITM, Bantakal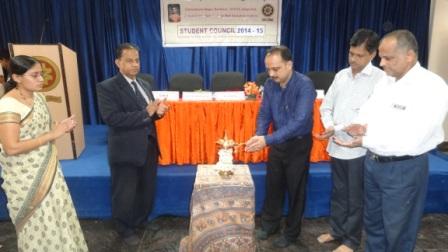 The inauguration of the student council of Shri Madhwa Vadiraja Institute of Technology & Management, (SMVITM) Bantakal, Udupi and the swearing-in ceremony of the newly elected members of the student council for the year 2014 –15 were held at the institute premises on 23 August 2014.
Dr. Vijayendra Rao, Denta Care, Udupi – a former student council member of KMC, Manipal – was the chief guest on the occasion.  Inaugurating the council, Dr. Rao said that brain drain was a serious problem that the country faced and he urged the students to do something for the country. He also said that emulating great role models would help the young people to make themselves great leaders.
 Prof. Dr. Radhakrishna S. Aithal, Principal urged the students to develop a positive mindset and a spirit of team work, which would channelize their energies resulting in determined action for the betterment of the institute and society at large
Sri Rathnakumar, Secretary, Shri Sode Vadiraja Mutt Education Trust, Udupi presided over the function. Mr. Akash Shetty, President of the council thanked the students and the management for the trust and confidence reposed in the members of the council.
(Dr.) Raviprabha, Student Welfare Officer, SMVITM administered the oath of office to the newly elected members of the council. Prof. Dr. A. Ganesha, Dean (Academics) welcomed the gathering and Mr. Rohill Joseph Lobo, General Secretary of the council proposed a vote of thanks.
93 total views, 1 views today