Report on Motivational Talk on Research Initiatives & Methodologies on 10 May 2014
ISTE Faculty Chapter of Shri Madhwa Vadiraja Institute of Technology & Management, Bantakal, Udupi organized a motivational talk on Research Initiatives and Methodologies by Dr. Lewlyn L. Raj Rodrigues, Head of the Department of Humanities & Management, Manipal Institute of Technology, Manipal for the faculty of the Institute.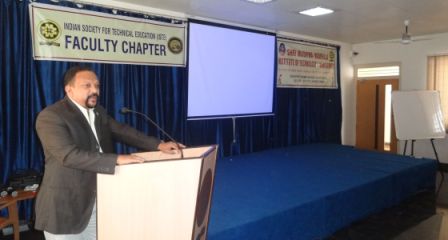 Prof. Dr. Radhakrishna S. Aithal, Principal of the institute emphasized the relevance and need for the faculty of technical institutes to take up quality research leading to Ph. D. degree.
During his address, Dr. Rodrigues outlined the objectives, procedures and methodology of conducting research, starting from the browsing of the existing literature in the area of research interest to facing the panel of examiners that would go into the merits of the thesis submitted for the award of the doctorate degree. He further explained the different approaches to research such as discipline-specific approach, interdisciplinary and trans- disciplinary approaches and the two models that are adopted in any kind of research: the deterministic model and the probabilistic or stochastic model.
Prof. Kishor Kumar Aroor with the Department of Mechanical Engineering   welcomed the gathering. Prof. Deepika BV with the Department of Civil Engineering introduced Dr. Rodrigues and the program concluded with a vote of thanks by Prof. Arun Upadhyaya, Secretary of ISTE Faculty Chapter of the Institute.
Sri Rathna Kumar, Secretary, SSVMET and Prof. Dr. Ganesha A. Dean (Academics) were present.
112 total views, 1 views today