A Report on Installation Ceremony of Rotaract Club
The installation ceremony of Rotaract club of Shri Madhwa Vadiraja Institute of Technology & Management, Bantakal, sponsored by Rotary Shankerpura was organized on 17/08/2013 in the institute seminar hall.
Chief guest Rtr. Manjunath Karant, ZRR, Karavali Zone, Dist 3180, in his address briefly explained the importance of Rotaract movement, and congratulated the new office bearers and members.
Prof. Dr. Radhakrishna S Aithal, Principal, SMVITM, with his encouraging words, asked the student members of the Rotatract club to work hard and march towards becoming one of the best Rotaract clubs of the district.
The event witnessed the presence of Academic Dean Dr. A Ganesha, Rotary President Rtn. Denzil Castelino, Rotaract Chairperson Rtn. Nandan Kumar, Rotaract Faculty coordinators Mr. Sudhir & Mr. Anand Hegde.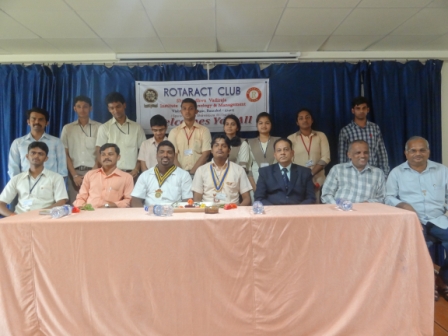 The new office bearers sworn in for academic year 2013-14 are as follows:
President : Rtr. Rahul Kotian
Vice-president : Rtr. Devika Lakshmeesha
Secretary : Rtr. Adheesh Shetty
Treasurer : Rtr. Rayan Benzen Nazareth
Directors : Rtr. Sneha Hegde
Rtr. Koushik
Rtr. Reshma
Rtr. Anush Bhagwath
Rtr. Vinth Niranjan
The programme commenced with the Rotaract prayer from Rtr. Sneha Hegde. Rtr. Rahul Kotian welcomed the guests while Rtr.Adheesh Shetty presented a brief report on the various activities held. Rtr. Devika Lakshmeesha delivered the vote of thanks. The Program was compered by Rtr. Prabhakar Rao.
238 total views, 1 views today