Mechanical Engineering Project: Development of farmer friendly drying system using solar energy
DEVELOPMENT OF FARMER-FRIENDLY DRYING SYSTEM USING SOLAR ENERGY
Now farmers need not worry about drying of their agricultural products and vegetables like onion, cashewetc. by paying money for it and at a very slow rate. Here is a solution provided by the students of Shri Madhwa Vadiraja Institute of Technology, Bantakal to accomplish this task at lesser time &cost and at a faster rate.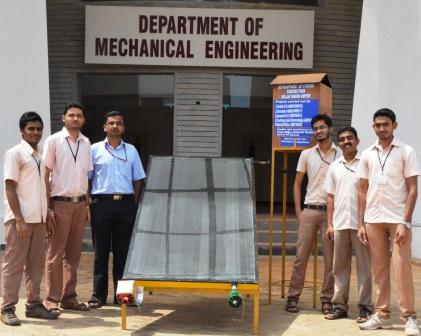 Students of this college made it by developing the Onion drier by using solar energy which can be used for other agricultural products also that needs drying. This is specially fabricated devicethat uses solar radiations as the energy source to carry out drying task. In operation the solar panel absorbs solar radiations and passes hot air with the help of a blower to the chamber where food grains or vegetables are kept for drying.Once the hot air passes through the chamber the moisture content of the vegetables reduces at a faster rate. Conventionally, drying of onions is done directly by the radiations on the field which needs days together or by using any artificial drier which is more costly.
Compared to conventional driers available in the market, this is very helpful to the farmers because of its salient features like simple working, lesser cost and fast operating characteristic. This work was carried outkeeping in mind maximum utility to the farmers to make drying process clean and hygienic as well as simpler, faster and cheaper. Its production in mass,  makes it highly economic for the farmers to buy.
This new idea & project work has been recognized and sponsored by KSCST, Bangalore for its excellent features.Principal and Management of SMVITM have congratulated the team of students and the guide for this fruitful work, having societal impact. Mr. Narasimha Pai, Mr. Naraja Ulithaya, Mr. Toufeepqe A R, Mr. Keerthan and Mr. Ashish N G are the students who worked on this project under the guidance of Mr. Raja Yateehs Yadav, Assistant Professor of Mechanical Engineering department.
280 total views, 1 views today