Mechanical Engineering Project: HHO Based Scooter Car
HHO (Hydroxyl Gas) BASED SCOOTER CAR
The precious and fast depleting non-renewable energy resource "petrol" can be saved by substituting "hydroxyl gas" in petrol fueled engines now! A group of Mechanical Engineering students from Shri Madhwa Vadiraja Institute of Technology, Bantakal, in their project work developed a hydroxyl gas producing unit that can be used with petrol engines to reduce petrol consumption.  This substitutes the petrol up to 20% and increases the engine thermal efficiency and also reduces the fuel consumption.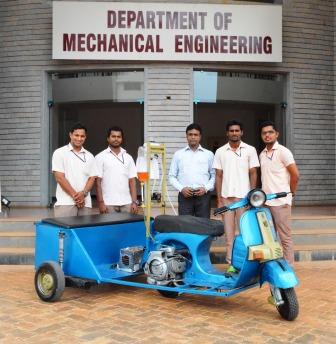 The students used easily producible and eco friendly hydroxyl gas from water, along with petroleum to run the two stroke petrol engine and achieved considerable improvement in mileage than conventional fuel.  The unit devised, breaks the water by the method called 'electrolysis' with very less electric current to form hydroxyl gas. This hydroxyl gas is used in a proper ratio in combustion chamber to burn with petroleum. The special portable kit to produce hydroxyl gas and its mixing during combustion in proper ratio to burn with petroleum, has been devised.
This novel arrangement is tested with Bajaj Chetak scooter to check the performance. The engine performance is found to be improved by 17% compared to conventional fuel.  This may be a considerable contribution to the automobile industry.
Mr. Allen Jacob, Mr. Vishwadarshan, Mr. Hardhik and Mr. Kishore are the students who worked on this project under the guidance of (Dr.) Vivekanand B. Huddar, HOD of Mechanical Engineering department. Principal & Management have appreciated the commendable work done by the students in order serve the society in reducing the consumption of petrol.
202 total views, 2 views today