Mechanical Engineering Project: High Efficiency Solar Water Heater
HIGH EFFICIENCY SOLAR WATER HEATER
Water heating is now made easy and economic for domestic and industrial applications. A group of final year Mechanical Engineering students from Shri Madhwa Vadiraja Institute of Technology, Bantakal have developed a solar water heater with efficiency higher than commercially available solar water heaters in the market, during their project work.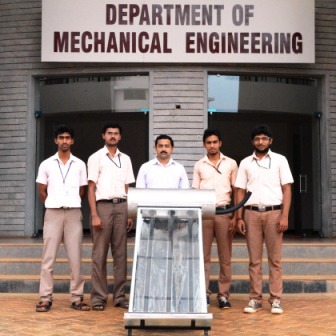 Though commercial water heaters are available in market, the developed equipment proved as more efficient in terms of heat absorbed. The equipment is more compact and costs less. Production in mass will bring cost further down as per the opinion of the students.
The equipment is constructed by using high reflective aluminum foil in the form semicircular trough beneath the tubes that concentrates the radiator effectively so as to increase the water heating rate.
Mr. Harshith Mundkuru, Mr. Sanketh Kamath, Mr. Vineesh and Mr. Abdul Thouheed are the students who worked on this project under the guidance of Mr. Ranganath Bhat, Assistant Professor of Mechanical Engineering department. Principal  & Management have appreciated the commendable work done by the students in order serve the society in reducing the consumption of petrol, the scarce commodity of near future!
145 total views, 1 views today